Revolutionize The ERP Software
We build Maxes Enterprise Solution for All Sizes Companies. Maxes is an Enterprise Resource Planning Software that helps companies to boost their business performance and expand the market by using built-in E-Commerce.

Maxes is powered by Oracle Database, The World's #1 Database Is Now the World's First "Self-Driving" Database. the next generation of the industry-leading database, delivers simplicity, unprecedented availability, and performance—at a much lower cost.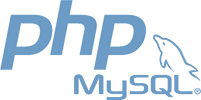 Maxes is also powered by MySQL, the most popular Open Source SQL database management system, is developed, distributed, and supported by Oracle Corporation. A database is a structured collection of data. It may be anything from a simple shopping list to a picture gallery or the vast amounts of information in a corporate network.


Java is the most powerful language in the world. Java can reduce costs, drive innovation, and improve application services as the programming language of choice for IoT, enterprise architecture, and cloud computing.
Accelerate Your Innovation with Maxes
Maxes Lite
Perfect for personal use.
Maxes lite helps you to manage your inventory, customers, and sales.
User Friendly
Maxes has a simple, clean, intuitive, and reliable user interface design. The goal is to provide a good user experience (or "UX"). A good UX will make users easy to remember and explore the software.
User Access
Maxes protects all information in every application from unauthenticated users. You use the Group Authorization app to create permissions for the user. When you have created permissions in this application, you can set it to your maxes users via the Users application.
Maxes Standard
Perfect for small companies and medium companies.
Maxes Standard helps you to manage your purchasing, item catalog(e-catalog), invoice, inventory, customers, and sales.
Maxes Charts
Maxes can displays the data in a simple, flexible, and beautiful chart. This charts is developed in Javascript. Thus, it will facilitates you in displaying data charts on various platforms quickly and attractively.
Maxes Reporting
Maxes uses J2EE open source technology platform used to create data visualizations and reports that can be embedded into rich client and web applications. Now you can create, design, develop all kinds of reporting with the most powerfull report tools on earth.
Maxes Enterprise
Perfect for small companies, medium companies, to big companies.
Maxes Enterprise helps you to manage your assets, locations, work orders, purchasing, item catalog(e-catalog), invoice, inventory, customers, and sales.
Maxes Ecommerce
Maxes E-Commerce is an add-on software for maxes software.
You can integrate E-Commerce to any maxes software version. Maxes ECommerce built under HTML5 and CSS3 so the layout design can be customized by yourself.